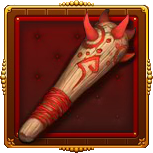 Its would be very wrong to assume that a Cyclops, with his one eye, is twice as easy to defeat. His club has crushed the skulls of many who neglected to prepare for battle as they should.
+17% damage dealt by warriors of the Sand
Your Brotherhood must come 1st or 2nd-5th place in the tournament
Cyclops' Clubis the one of many artifacts that can be won in Bastion of Horror tournament. Released in June 2015.