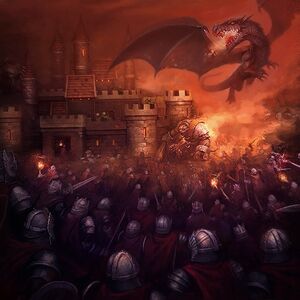 Defensive constructions protect your village from enemy attacks. Only thick walls and strong towers will secure your resource supplies in Barns and Treasuries. To build a defensive construction, select it in the respective tab at the Store and place it on the map. The higher is your Castle level, the more defensive constructions will be available for you.
Each tower has its own characteristics, which change depending on its level, as well as different priority targets. Certain towers can attack either ground or air units.
You need to take into account these factors when you arrange your village to provide the best protection and don't let your enemies reach the Castle and the storages.
You will need gold to construct and upgrade your defensive buildings.
Walls and defensive towers
| | | | |
| --- | --- | --- | --- |
| | | | |
| WALLS | TOWER | ARCHER TOWER | CANNON |
| | | | |
| STORM SPIRE | ZIGGURAT | TOWER OF FIRE | TOWER OF DEATH |
| | | | |
| ICE OBELISK | MINARET | PROTECTIVE CRYSTAL | |