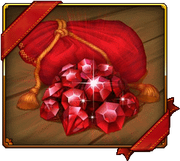 Gems are the most wanted currency Throne Rush. They appear as a Red Ruby shaped gem located at the top left side of the screen above your Coin.
Use of gems
I recommend you to save your gems and buy heroes. The list below shows what gems can be used for from most important to less important.
Recruit Heroes
Accelerate recruiting time by 4x
Finish Research on your Troops
Complete ingredients for your spells
Buy protection for your city
To upgrade your Builder's house
Finish upgrade on your buildings
Fill Treasuries and Barns to full, half full or 10%
You can not buy builders anymore:
To smooth the differences between the new players we have decided to limit the maximum amount of builders to 2.  You will now have to purchase more gems to complete the building process faster.
If you have purchased additional builders before, you will not lose your hardworking helpers
Earning Free Gems
Crystal Shards
Collect three shards and receive your reward of 100 gems.
Invite your friends to play Throne Rush, once they have complete the "Sludgers' Lot" mission they can send you one Crystal Shard.
A popular method of obtaining these shards, is by creating multiple Facebook accounts and then sending shards to yourself. Creating more than 1 Facebook account is against Facebook terms and I do not recommend doing it this way.
You can buy crystal shards for 25 Gems each. If you buy Crystal Shards you can still receive a profit of 50-75 gems
Moral Quest

Earn Gems by earning Moral. 
100 Moral = 10 Gems
500 Moral = 50 Gems
1000 Moral =200 Gems 
2000 Moral = 500 Gems
Purchasing gems
You can buy gems online. You have the option of buying gems with your card or your mobile phone. The best option is to purchase gems with your card. The mobile option varies among countries. To find out the prices in your country click on the Buy with mobile tab next to Buy with card.
Special Sale
On rare occasions, Throne Rush will offer Special Gem sales giving you discounts on the normal priced gems