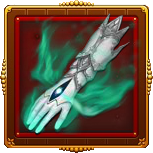 On the battlefield, every healer counts. This armor, capable of turning any warrior into a healer, was created after an ancient elven design.
+17% storage health
Your Brotherhood must come 1st or 6th-10th place in the tournament
Healing hand is the one of many artifacts that can be won in Bastion of Horror tournament. Released in June 2015.