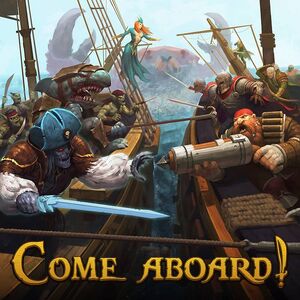 The Pirates event was released on 2
nd of
July and ended 18
th
of July. During this event, players can gain Doubloons in battle to level up their Blood pearl statue, giving the player a chance of winning daily troops, spells, artifacts and a new decoration; Dead Man's Chest. Later in the event players are put into leagues to fight against eachother in order to win more prizes.
Blood Pearl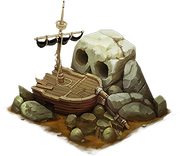 Every 24 hours you can collect gifts from the Blood Pearl, you can collect more gifts in exchange for gems.
To upgrade the Blood Pearl Statue you must collect Doubloons in the arena or as a random gift in the Blood Pearl. When upgrading the Blood Pearl, you increase your chances of receiving better loot.
Artifacts
Decorations
Achievement
How to earn
Reward
Dead Man's Chest

Claim through the Pirate's Event

+15% storage health within a range of 5 squares

Kraken's Lantern

Claim the prize for placing 1-100 in the Tournament of The Pirates

+15% attack of defensive buildings

Skull Rock

Claim the prize for placing 1-25 in the Tournament of The Pirates

+15% gold production

Pirate's Fortune

Claim the prize for placing 1-5 in the Tournament of The Pirates

+15% defensive buildings' HP
Troops
| WARRIOR OF THE DEEP | |
| --- | --- |
| | |
| Type | Ground Unit |
| Priority Target | Nearest |
| Attack Type | Target |
| Range | 1 |
| Speed | 2 |
| Size | 2 |
| SIREN | |
| --- | --- |
| | |
| Type | Ground Unit |
| Priority Target | Nearest |
| Attack Type | Target |
| Range | 4 |
| Speed | 1.5 |
| Size | 4 |
| GHOST PIRATE | |
| --- | --- |
| | |
| Type | Ground Unit |
| Priority Target | Nearest |
| Attack Type | Target |
| Range | 2 |
| Speed | 3 |
| Size | 10 |
| KILLER CRAB | |
| --- | --- |
| | |
| Type | Ground Unit |
| Priority Target | Nearest |
| Attack Type | Target |
| Range | 1 |
| Speed | 1.6 |
| Size | 6 |
Spells
| Kraken's Embrace | |
| --- | --- |
| | Release the enraged Kraken, and its huge tentacles will crush anything within reach. |
| Damage | 400 |