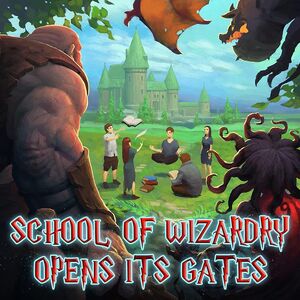 The School of Wizardry event was released on 9
th
 of September. During this event, players can gain Adepts in battle to level up their Thornwarts department, giving the player a chance of winning daily troops, spells, artifacts and a new decoration; Fountain of Harmony. Later in the event players are put into leagues to fight against eachother in order to win more prizes.
Thornwarts
Every 24 hours you can collect gifts from Thornwarts, you can collect more gifts in exchange for gems.
To upgrade the Thornwarts you must collect Adepts in the arena or as a random gift in the Thornwarts. When upgrading the Thornwarts, you increase your chances of receiving better loot.
Artifacts
Decorations
Achievement
How to earn
Reward
Fountain of Harmony

Claim through the School of Wizardry Event

-15% damage inflicted by warriors on storage

Elemental Tree

Claim the prize for placing 1-100 in the Tournament of The Pirates

-15% damage dealt by units to defensive buildings

Stone guard

Claim the prize for placing 1-25 in the Tournament of The Pirates

+15% defensive buildings' HP

Book of spirits

Claim the prize for placing 1-5 in the Tournament of The Pirates

+15% food production
Troops
| GIANT | |
| --- | --- |
| | |
| Type | Ground Unit |
| Priority Target | Nearest |
| Attack Type | Target |
| Range | 1 |
| Speed | 1 |
| Size | 5 |
| GARGOYLE | |
| --- | --- |
| | |
| Type | Ground Unit |
| Priority Target | Nearest |
| Attack Type | Target |
| Range | 1 |
| Speed | 2 |
| Size | 5 |
| SOUL EATER | |
| --- | --- |
| | |
| Type | Ground Unit |
| Priority Target | Nearest |
| Attack Type | Target |
| Range | 2 |
| Speed | 3 |
| Size | 10 |
| BASILISK | |
| --- | --- |
| | |
| Type | Air Unit |
| Priority Target | Nearest |
| Attack Type | Target |
| Range | 1 |
| Speed | 1.6 |
| Size | 6 |
Spells
| Magic trap | |
| --- | --- |
| | Magic trap inflicts damage on all buildings within the spell range. |
| Damage | 400 |